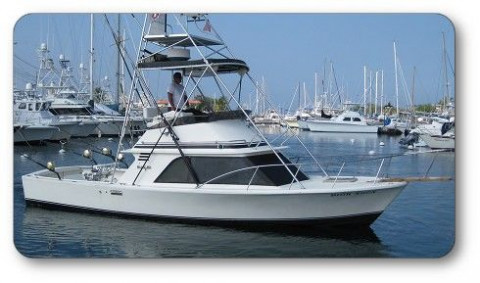 Kona Hawaii is world famous for calm waters and big game fishing. And there is no better Kona sport fishing experience than on Team HighNoon. With Captains Dee and Captain Tara, HighNoon is one of Kona's top rated sport fishing boats by both Trip Advisor and Yelp. We received both the prestigious 2019 Award for Excellence from Trip Advisor. Owner operated and managed, HighNoon is the perfect boat for sport fishing in Kona, Hawaii. We invite you aboard to fish the calm waters off Kona, Hawaii. We specialize in light tackle fishing using live bait as well as big game trolling for Blue Marlin.
NOTE: HighNoon is the only Kona fishing boat to update our fishing blog almost every day. So, when you do catch a nice fish, we provide a nice write up including photos and videos you can send to friends and family. Fun for us...fun for our customers!
Fishing in Kona every day helps us know where the bite has been and the best places to find that once in a lifetime fish for you. HighNoon excels in enploying a variety of technques to catch fish. We work hard trying different techniques and enjoy showing our anglers the nuances of big game fishing in Kona. We may troll lures for a while, change over to live bait along a ledge, drop down to the bottom or we even down a live bait for a shark or two. There is something for every one on a Kona fishing charter. We can even stop over at Captain Cook (the best snorkeling in Hawaii) for a refreshing snorkeling stop (only takes about 30 minutes out of your fishing day) With low charter rates, high catch rates and a variety of fishing techniques, Highnoon is the perfect boat for fishing Kona, Hawaii.
We fish flat water, close to shore for big game fish like giant Blue Marlin, Striped Marlin, Spearfish, Wahoo and Ahi. Fishing in Kona is family friendly and comfortable. With the lowest rates for a quality boat in Kona, HighNoon is the perfect choice for fishing Kona Hawaii.
Specialties
Ahi Fishing
All Bait And Tackle Provided
All Stand-Up Tackle Available
Almost 30 Years Business
Artificial Lure
Big Fish
Charter Fishing
Combination Charters
Custom Charters
Deep Sea
Deep Sea Fishing Charters
Dolphin
Hawaii Fishing
Kona Deep Sea Fishing
Kona Fishing
Kona Fishing Charters
Kona Hawaii Fishing
Live Bait
Offshore
Parking At The Boat
Trolling
Yacht Charters
Year Round Fishing Charter