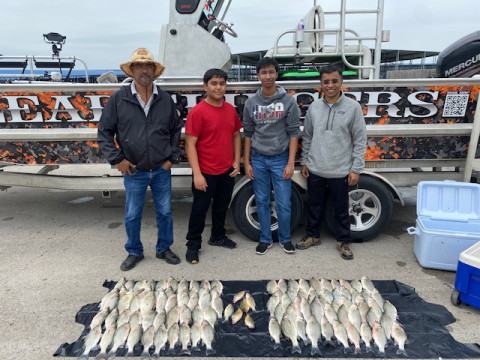 Opening weekends in October and week days for bowfishing and fishing. Soon to have perfect weather!
Hybird and white bass are a fun fish to catch and knowing lake ray hubbard holds the record for Texas is pretty kewl.
Crappie are still biting that's good!
Monster catfish are roaming around!
Bowfishing trips yes you have the option to keep your fish for bait or food. If you don't want I will properly dispose of all fish.
This month of every year I will give out a treat to those that come fishing with me in October. Everyone's name will be drawn at the end of the month of October for a fishing or bowfishing trip to use when ever. Just a appreciation!
*Good news*
I was approved to post up at walmart in forney Nov 6 and 7th for fish on Texas catfish tournament and toys for tots event at Waco lacy lake the event starts December 4th everyone should come!
Here's a video of getting those hybirds.
Book your awesome trip with Lead Slingers I also clean your fish and provide sponsor gear with discounts on your purchase! Thanks again and fish on!
#rapala
#boneheadtackle
#FishOnTexas
#hydrosheild
#migrateoutfitters
#proanglerstackle
#outriggeroutdoors
Specialties
All Bait And Tackle Provided
Artificial Lure
Big Fish
Charter Fishing
Charters
Clean And Package Your Catch
Crappie
Custom Charters
Fishing
Full Day Trips
I Like To Have A Good Time Out On The Boat As Much As My Clients
Light Tackle
Live Bait
Night Fishing Charters
Our Boat Is Gas No Smelly Desiel Fumes
So If It Is Too Rough Out I Have No Problem Rescheduling A Trip.
Striped Bass
Trolling
White Bass
Year Round Fishing Charter